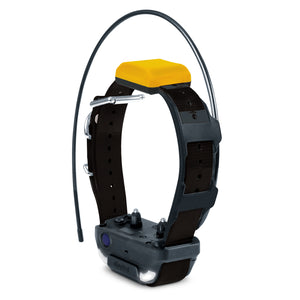 Dogtra Pathfinder 2 Additional Track and Train Collar
The additional PATHFINDER2 GPS Collar for the expandable PATHFINDER2 GPS Dog Tracking and Training System. Features include: LED Locate Light, Pager Vibration, Tone, Nick and Constant E-Collar training functions with a 9-Mile tracking range and is fully waterproof. Users can pair up to 21 dog collars to the PATHFINDER2 system. This GPS dog tracking collar is designed to be paired to the PATHFINDER2 GPS Connector in order to operate. 

Additional Information: 
PATHFINDER2 GPS Connector required to operate and is sold seperately. 

Compatibility: Only PATHFINDER2 Series, PATHFINDER2 App, PATHFINDER2 GPS Connector
QUICK FEATURES

12"+ Neck Size
9-Mile Range
Rheostat/Volume Dial with Stimulation Levels 0-100
2.5 Hour Battery
Nick and Constant Stimulation
Non-Stimulating Pager Vibration
Audible Tone
Fully Waterproof Receiver
Expandable to 21 Dogs and Hunters
Geo-fence Option
Offline Maps
Precise and Up-to-date Maps
Tracking Only Mode
For Dogs as Small as 35 lbs.
---
We Also Recommend