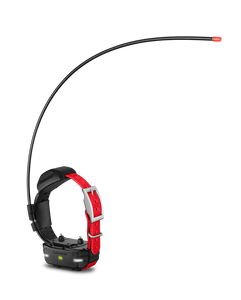 Garmin TT15 Mini Track and Train Collar
A top-mounted, high-sensitivity GPS/GLONASS receiver, TT 15 mini dog device uses 18 levels of continuous and momentary stimulation, plus audible tone and vibration when used with a compatible dog device.
Rugged and water-resistant to 10 meters, this tracking and training dog device with collar is tough enough to run wherever your dog runs, up to 4 miles away. The stimulation features let you train each dog separately — traditional stimulation allows you to make quick changes (low, medium or high) within a predetermined stimulation level (1-6), whereas linear stimulation allows progressively more stimulation from levels 1 to 18. You can remotely operate the LED beacon lights, built in to the dog device, to help locate your dog in low-light conditions.
TT 15 mini ships with a 3/4-inch red collar strap. Replacement straps are available in multiple colors (sold separately). TT 15 mini is compatible with track only handhelds but the training tools will not function. The T5 mini is recommended for track only handhelds.
---
We Also Recommend